Klima og bæredygtighed
The climate crisis calls for a new pedagogy
The climate crisis cannot be restricted to an annual theme week in class 6.B. Green pedagogy must form an integral part of our education system and equip children and young people to navigate an uncertain world with no clear answers but with many dilemmas. Asterisk has spoken to three researchers, who offered their suggestions for how our education system should approach this challenge.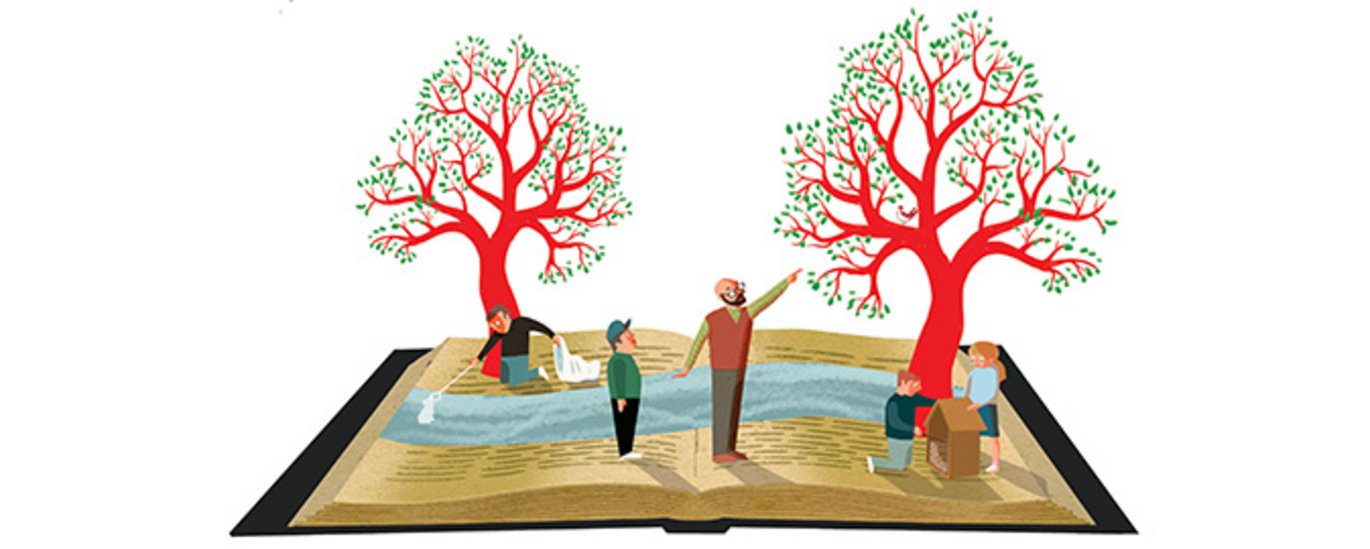 It is climate theme week in class 6.B. The teacher explains that the ice at the North Pole is melting and that the rainforest in Brazil, despite functioning as the world's lungs, is being cut down; that biodiversity is under threat; and that whales are swallowing the plastic we humans throw into the ocean. The following week, the pupils go back to their regular timetable of maths, Danish and English, feeling somewhat disempowered without any real opportunity to act on the problems they have been presented with. After all, as either individuals or a school class, there is little they can do about pervasive global climate challenges.
This example is imaginary, but, according to Jonas Andreasen Lysgaard, associate professor at the Danish School of Education, Aarhus University, it presents a realistic picture of how children and young people in Danish state schools (folkeskoler) are taught about climate change and issues of sustainability – what researchers call Education for Sustainable Development (O:\ARTS_DPU-Dekanatet\Asterisk\Asterisk - genereltESD). As a researcher in education, pedagogy and sustainable development, he has his finger on the pulse regarding how things are going in this area. And, at the moment, the pulse is rather low.
"It is not enough to park the problem in a theme week during the school year. The fact that many schools do this means that the education system in Denmark does not take climate and sustainability seriously enough. We lack a political initiative in this area, preferably in the form of concrete support for individual schools and teachers and particularly in the form of a re-thinking of the common objectives for Danish state schools," claims Lysgaard.
However, as he points out, the problem is that Education for Sustainable Development doesn't fit in well with the existing common objectives that all schools in Denmark have to meet. If we want to do things properly, we need to think differently. And, even though this will require both time and resources, he believes such an investment is necessary.
"If thinking critically about climate challenges and sustainability issues could become a requirement for all education institutions – primary, secondary and higher education – this would be a promising start", he says.
The good news is that there is growing engagement in these areas at grassroots level (e.g. the Green Student Movement) and among teachers in schools, colleges and universities.
"I have never seen so many students and so many talented colleagues from universities and university colleges engage in the issue, so the ideas and the drive are already there from below. But it is difficult to change procedures and policies from the ground up. So we need politicians to support this development. If they could also allocate sufficient resources and demonstrate their trust in talented and committed teachers, we could go far," says Lysgaard.
Criticism, hope and action
But what exactly should pupils and students learn if education institutions are to take climate change and the issue of sustainability more seriously in the future than they do today? What should a new green and sustainable pedagogy be able to do?
According to Lysgaard, this type of pedagogy must do three things. Firstly, it must criticise unsustainable practices at the local, national and global level and, secondly, it should give cause for hope and courage.
"It is popular to describe a doomsday scenarios, but we cannot only focus on specific challenges that threaten us here and now. Education and pedagogy should always be able to accommodate a wider and longer-term aim. We should be able to face the big challenges, and we should be able to navigate them," he says and continues:
"When we speak of sustainability, we often end up discussing things we must not do. Such a purely negative formulation does not work in a pedagogical context. We should rather view the issue as an opportunity to take a critical approach to work, to rethink and to innovate."
Thirdly, the new green pedagogy should adopt an action perspective:
"We cannot sit idly by and talk ourselves into a good future. We need to be able to act on both an individual and a collective level. It is not only the individual's responsibility; we are facing challenges that in many ways require structural and political changes, but we must also insist that we can create meaning, hope and change through the individual's commitment and actions," says Lysgaard, who concludes that a successful new, green pedagogy should combine the three notions of criticism, hope and action.
More hands and hearts in school
The notion of action is also highlighted by Nadia Raphael Rathje, PhD student at the Danish School of Education and researcher in the development of a sustainable pedagogy and didactics in primary and lower secondary school. In her opinion, schools are unfortunately far too complacent on this issue. She therefore believes that action- and experienced-based pedagogy should feature more in school teaching, and she refers to the classic pedagogical trinity of 'head, hand and heart'.
"Today there is far too much head in school. We need more hands and hearts. Knowledge is of course important. But it is also hard, especially for children and young people, because knowledge tells them how bad things are. It's therefore important that they see themselves as people who can do something about the problems. They should learn to act and repair with their hands and to create communities with their hearts," says Rathje.
She was previously head of The Green Free School (Den Grønne Friskole) in Copenhagen and describes how teachers at this school support and strengthen the pupils' ability to take initiative in many ways, for example by helping them solve problems and tasks that can benefit organisations outside of school, such as the local library or museum. And the young pupils can of course get involved, she emphasises. For example, they can help build insect hotels or make an informative sign or poster for an exhibition. In this way, the students' hands and hearts come more into play.
"Producing something for someone gives pupils the feeling of being pro-active and dynamic. And this increases their faith in their own ability to take action and to be part of the solution to climate problems", she explains.
Just as we tend to supress the role of hands and hearts in school, we also allocate too little room to the aesthetic in teaching, Rathje claims. Creativity is an important ingredient in Education for Sustainable Development, since stimulating the creative senses helps pupils innovate and use their initiative, which, according to her, are two of the most important competences called for by the climate crisis.
She also mentions the outdoor school initiative as a key part of green pedagogy as well as the Danish school reform's concept of open school, which encourages pupils to learn outside the school grounds, for example to visit NGOs or companies.
"These visits can help make our work experience-based. And this makes the students want to take initiative!", she says, and she describes the didactics used at the Green Free School:
"Instead of looking up birds on page 8, for example, the pupils go outside and listen to the birds they can hear in the forest. Or they ask the people working in the museum. They then form hypotheses, test these hypotheses, and categorise the knowledge they have gathered. The teachers support these processes in a way that allows the pupils' curiosity to guide the task. This didactic approach helps pupils see that they can produce knowledge and that knowledge can grow."
Norway is moving ahead
Aside from the work of the Green Free School and other schools specifically dedicated to the issues of sustainability and climate, it is clear that the Danish education system in general is dragging its heels in these areas, claim both Rathje and Lysgaard. In Norway, on the other hand, they have incorporated principles of sustainable development into the national curriculum for most subjects in primary and lower secondary school since the autumn of 2020.
In Oslo, Ole Andreas Kvamme, associate professor in education and sustainability at the University of Oslo, is monitoring the way Norwegian schools transform these principles into action. The first evaluation, which included 1500 teachers, revealed big differences between how well equipped the teachers feel to work with issues of sustainability and how they do this in practice. For some teachers, the new focus made sense and came easily, but, for others, it was more challenging. In some subjects, it is relatively obvious to see how you can work with the issue of sustainability – in others, more creative thinking is required.
"Our point of departure was that principles of sustainability should only be incorporated into the subjects in which sustainability could be a central theme. Previously, this had been limited to subjects within the natural and social sciences. But, gradually, more subjects entered the field, and it became clear that the humanities also had something to offer. It makes good sense to implement principles of sustainability into language, literature and history subjects," he says, highlighting the subject description for history in the 2020 national curriculum:
... an awareness of history allows pupils to understand that the consequences of their own choices become other people's history. In this way, students can also become aware of their own opportunities to contribute to a more sustainable society (national curriculum for history, Norwegian Directorate for Education and Training).
It is still too early to say whether or not the new principles of sustainability in the national curriculum have been successful. This is something researchers will continue to monitor, but what Kvamme can safely say at the moment is that these principles have given rise to an important and much-needed debate in Norway. A debate which was previously only driven by enthusiasts but which has now engaged large parts of the school community, the research field and, not least, the politicians.
Free-up schools
Why are they moving faster on the issue of Education for Sustainable Development in Norway – and other Nordic countries – than we are in Denmark? There are many explanations, but the main reason in that Denmark has not yet had the qualified discussion about Education for Sustainable Development that Norway has.
Rathje believes we need to start a movement that exerts pressure from both above and below. In other words, both a bottom-up and top-down model. Like Lysgaard, she calls for political will and initiatives in the area, but she also thinks that, if we want to realise our ambition of sustainable development, schools need to be freed-up and be subject to less regulation. Among other things, this freeing-up of Danish state schools would mean teachers working in a less goal-oriented way with pupils and being more open to taking risks. The willingness to take risks is closely connected to the ability to act and take initiative. This approach rubs off on the pupils, who in turn feel more confident trying out new ideas, experimenting, failing and trying again, and this is important, she describes, because it is essentially with this method that they will help combat climate challenges. She says:
"There is a need to break away from binding targets in schools, since they do not form part of a sustainable didactics. In the target-driven school, neither teachers nor students dare to embark on new projects, because they always have to think strategically in relation to marks. It is not this type of thinking we need if we want to solve climate problems."
Green education with a global outlook
Instead, Rathje believes we need a formative green education (grøn dannelse) in schools. That is, a form of education that involves children and young people learning to understand and reflect on sustainability and climate challenges and to participate in the democratic conversation about them. Green education is not enough in itself, because, as we have seen, climate challenges also require action, but it is a prerequisite for pupils to see themselves as the innovative and action-oriented people the climate needs.
"Education is about preparing children and young people for the future. This forms part of the mission statement for Danish state schools. Climate challenges will clearly be one of the biggest problems we must and will solve. And this is why I view green education simply as a continuation of democratic education," explains Rathje.
Kvamme also highlights the importance of thinking about education from a green perspective, but he also underlines the importance of adopting a global outlook, which he takes to be an important ingredient in the new, sustainable pedagogy. When he considers the Danish education system and our learning traditions from his external position, he sees both strengths and weaknesses:
"Formative education (dannelse) is strong in Denmark, and you can benefit from working on this further within the context of sustainability. But this work must include adopting a global outlook, so that pedagogy in Denmark becomes more open to the world rather than closing in on itself," he says.
The need for a global outlook helps underline the fact that climate problems cannot be solved in isolation within one perspective or one field. These problems, as well as the science that can solve them, interconnect with one another. And that's why we can't just copy the Norwegian model, which has developed sustainability principles for each individual subject. This is something on which Rathje and Lysgaard agree. Instead, they believe we should adopt a cross-disciplinary and problem-oriented approach.
"Green issues are not divided into subjects – not even in school. When pupils work across disciplines in schools, they learn to recognise contexts and connections. They can do this through project work that addresses a specific problem that needs to be solved, or they can be thematic. For example, they can devote one learning period to the sea and another to birds or the planet's children," explains Rathje.
Kvamme can clearly see the benefits of such a cross-disciplinary approach, which gives sustainable pedagogy more room to unfold. And, on this point, he remarks that we in Denmark are actually further ahead than Norway, which, in the last ten years, has not prioritised interdisciplinary work in schools.
'Wicked problems' require dilemma pedagogy
Even if we work across subjects, it is still not clear which route we should take or what or whom we should believe in, in a world in which experts, politicians and lobbyists are fighting for the right to define the truth. Sustainability is a hyper-complex field, as Lysgaard puts it, not least because it gives rise to so many dilemmas.
Rathje refers to this new pedagogy as dilemma pedagogy – in other words, a pedagogy that is able to translate the sense of uncertainty into tangible dilemmas, and which can equip children and young people to navigate a world of nuance with several answers – or, occasionally, no answers.
Kvamme continues with this theme and highlights a specifically Norwegian sustainability dilemma, which we can also recognise from debates in Denmark.
"In Norway, we have the right weather and natural conditions to create a lot of energy using wind turbines, but there is currently a heated discussion about whether wind turbines on the Norwegian mountains are destroying the unique Norwegian natural world, including local bird and animal life. Not to mention the noise," he says and continues:
"This is a sustainability dilemma that pupils in Norwegian schools should learn to evaluate. They should not be indoctrinated to believe that one solution is better then the other, but they should approach it in a nuanced way so that they understand the dilemma 'green energy versus destroyed nature.' And perhaps they can see a third way and ask themselves whether we as a society are willing to lower our living standards in order to consume less energy. Such an approach involves ethics and values and considering all sides of the problem.
According to Rathje, when adopting a dilemma-based pedagogy in school, it is important that pupils develop competences to enable them to ask questions, investigate and think critically.
"Green pedagogy does not have to change people's behaviour, but, by presenting pupils with dilemmas, it needs to relate to the challenges we are currently facing. Teachers need to make pupils feel comfortable taking risks so that they can find the courage to tackle so-called 'wicked problems' – that it, problems that nobody currently knows the scope of or the solutions to. Pupils therefore need to test hypotheses and rethink these hypotheses if they turn out to be wrong," she explains.
Teachers must be able to handle chaos
Dilemma pedagogy does not only apply to pupils. Teachers who wish to work with Education for Sustainable Development must also be able to navigate several dilemmas and make the relevant nuances clearer for their pupils. According to Rathje, it is a teacher's commitment and openness that is crucial. She says:
"Any committed teacher will be able to work with green pedagogy and didactics. The main thing is that he/she is open and can deal with chaos. Not everything needs to be targeted, framed and structured. If you want to be part of changing something, you must be able to handle chaos. The green transition is chaos."
Both Rathje and Lysgaard believe that, in Denmark, we need to take a closer look at the teacher-training degree programme to ensure that teachers of the future have the courage and desire to embrace Education for Sustainable Development.
In Norway, trainee teachers work in sync with the new curriculum for primary and lower secondary school, explains Kvamme, and he therefore hopes that, in the long term, Education for Sustainable Development will form part of the teacher-training degree programme.
The question is whether Education for Sustainable Development will come just as easily for us in Denmark, if we go the same way as Norway and make the common objectives for Danish schools greener, Lysgaard suggests. The challenge is time: education always has a long-term perspective, and it takes time to reform the education system. But this just reinforces the need to get started quickly, he emphasises.
Revitalising pedagogy
But can this process also go too quickly for pedagogy? Is there anything we need to safeguard, preserve of hold back in order to ensure that pedagogy is not suffocated by new, sustainable ambitions?
Lysgaard doesn't think so. He hopes and believes that we will soon see a reform of our education system that makes the issue of sustainability relevant in light of our learning traditions. On this point, he remarks that our strong pedagogical traditions are the very foundation for Education for Sustainable Development to manifest itself in the Danish education system.
"In Denmark, there is great potential in thinking of sustainable development as something that builds on our already strong traditions for critical education, enlightenment and the focus of competences. If we work critically to see our strong academic and didactic traditions from a sustainable perspective, we will be able to establish cross-disciplinary connections and build further on an education system that not only has to educate for sustainable development but also for a meaningful society based on democracy, participatory and critical perspectives, and practices," he says.
---
Green pedagogy must:
Criticise unsustainable practices on the local, national and global level and give pupils an insight into which societal processes we need to change if we are to succeed in solving climate challenges.
Give pupils hope and courage and enable them to see that there is something they can do – they cannot solve the problems alone, but they can play their part.
Be action-oriented – for example, give pupils tasks in which they have to build or solve something for someone. Even the very young pupils can get involved, for example, by building insect hotels or making posters about sustainable ideas or processes for museums and libraries.
Source: Jonas Andreasen Lysgaard
---
How green are the common objectives for Danish state schools?
Education for Sustainable Development (Undervisning for Bæredygtig Udvikling, UBU) is mentioned in the common objectives for Danish state schools (folkeskolens Fælles Mål) – but only in the curriculum for the 9th grade and primarily within social science topics:
Geography: In the areas of academic skills and knowledge, there are a number of topics that refer to the cross-disciplinary global perspective in teaching and which call for a social science exploration of sustainability.
Social Studies (Samfundsfag): In the areas of academic skills and knowledge, there are also a number of topics relevant to the global perspective and sustainable development.
Source: Jonas Andreasen Lysgaard and Monica Carlsson: Uddannelse for bæredygtig udvikling – fra politik til praksis (in Danish only) [Education for Sustainable Development – from politics to practice]. In: Jonas Andreasen Lysgaard and Nanna Jordt Jørgensen: Bæredygtighedens Pædagogik (in Danish only) [The Pedagogy of Sustainability], Frydenlund Academic, 2020
---
Personal bios
Jonas Andreasen Lysgaard is associate professor at the Danish School of Education, Aarhus University. He conducts research into education, pedagogy and sustainable development and teaches on the Bachelor and Master's programmes in Education Studies.
Nadia Raphael Rathje is a PhD student at the Danish School of Education, Aarhus University, and University College Copenhagen. She was formerly the head of the Green Free School (Den Grønne Friskole) in Amager and has also been an associate professor in Danish on the Zahle teacher-training degree programme (Læreruddannelsen Zahle).
Ole Andreas Kvamme PhD is associate professor at the Department of Education and School Research at the University of Oslo. He conducts research into pedagogy, didactics and ethical issues connected to sustainability challenges.
---
Concepts
Education for Sustainable Development is a UNESCO concept that combines education and sustainability. In Denmark, this concept has framed sustainable development, not only in relation to the environment and climate but also in relation to economic and social issues. Read more about the specific tools on the UNESCO website: Education for sustainable development for 2030 Toolbox (unesco.org)
'Wicked problems': problems that are difficult to grasp because they continue to change, have no clearly defined timescale and have no obvious solutions. The climate crisis is an example of this type of problem.
Dilemma pedagogy: a pedagogy that can translate the feeling of uncertainty (e.g. in relation to the climate crisis) into tangible dilemmas, and which can equip children and young people to navigate a world of nuance with several answers – or, occasionally, no answers.